Madden NFL 12 season is finally in full swing, which means that Sundays are now filled with plenty of action-packed, hard-hitting football. It also means that gamers can step into the shoes of their favorite pro football stars thanks to the release of Madden NFL 12.It seems as if the Madden franchise has been around forever, but nobody's complaining.  After all, the series has given football fans the ability to enjoy the game they love on a round-the-clock basis.  Madden's newest edition is a solid one, and it comes with plenty of new tweaks which should satisfy faithful followers of the franchise.
Overall gameplay
In terms of overall gameplay, the most noticeable and welcomed aspect is the new collision system.  EA Sports usually has done a decent job of injecting realistic collisions into its football games in the past, but Madden NFL 12 takes them to a whole new level.  Collisions look as realistic as they can be, and momentum is factored into each play.  Players will try to squirm out of tackles, drag defenders for extra yards, or get knocked deep into the sidelines.  The animations seem endless, and EA claims there are over 100 new tackle animations and 40 new gang tackles added to the mix.  It's not all about tackles, however, as blocking animations have been revamped as well, so all of you offense lovers out there have not been forgotten.
If you were an offensive genius in previous Madden editions, you might have to practice a bit to gain that same level of prowess in the 2012 edition.  The defensive AI has been improved to offer quite the challenge when you have the ball.  Linebackers and defensive backs are very adept at batting down and intercepting passes, so you will need the perfect touch to create successful completions.  Zone defense has been improved in particular and can get pesky to figure out at times. Check out more video game guides like Dark Deity Guide.
Custom playbooks
In response to requests by fans, EA Sports added a custom playbooks feature to Madden NFL 12.  Custom playbooks is the ultimate feature for true fans of the game, as it gives you the ability to pick and choose your favorite plays from among 75 different playbooks.  You can add up to 400 offensive and defensive plays to your playbook, so being limited is no worry.  The option also exists to modify an existing playbook to fit your needs.
If there is one area where EA Sports tends to excel in all of its sporting titles, it is presentation.  Luckily, Madden NFL 12 is no different.  There are various tweaks in this area that make Madden NFL 12 the best looking release from the franchise to date.  There's 3D grass for an added level of authenticity, and you'll even see players kick up pieces of turf as they run take off towards the endzone or make a game-saving tackle.  The beauty of NFL stadiums is on full display and enhanced thanks to improved lighting.  Shadows will creep in and go away according to the time of day.  The dynamic nature of the entire environment is really something to behold, and you can forget at times that you are playing a game instead of watching one on TV.
Player models
Player models are solid.  Running backs look different from receivers, and linemen differ from linebackers.  If a player is big in real life, he's big in the game.  Uniforms look great, and there are plenty to choose from.  Every detail is included, right down to the helmet stickers.  You can also tweak each player's equipment from head to toe.  As the game progresses, uniforms and helmets will get dirty or dinged up from the action and the weather conditions too.  Different players even have unique animations to match their sometimes vibrant and eccentric personalities.  You'll even get to kick off each game with a team-specific entrance complete with cheerleaders, mascots, and music to get your blood going.  In short, there is no stone left unturned when it comes to the look of the game.  Some may complain about tidbits such as fans that don't look so great at times, but those are minor compared to the game's positive notes.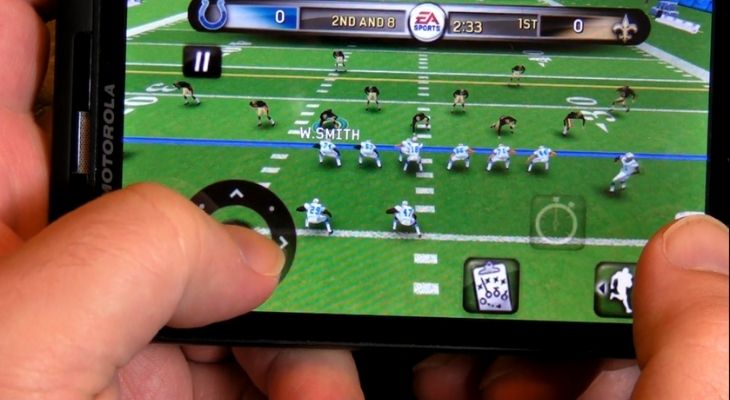 On-field action in Madden NFL 12
While the on-field action in Madden NFL 12 looks great, EA Sports makes it look even better with its detailed broadcasting features.  Over 500 broadcast cameras have been added, as well as on-field cameras from NFL Films.  Broadcast graphics look better than ever too and help bring the game to life.  With so many broadcast cameras for each game, no two games look the same.  That alone helps to diminish the repetitive factor that often comes with sports games.
Commentary of Madden NFL 12
As far as audio is concerned, the crowd sounds good, even though it may be quiet from time to time.  Piped-in music, sound effects from hits, and the rest is solid overall.  Where the audio and presentation seem to fall apart is the commentary.  The injection of real-life commentators in Gus Johnson and Cris Collinsworth is a nice touch, both fail to add anything to the game.  To put it in simple terms, their commentary is dull and tedious.  There are even occasional errors in the commentary when it comes to saying player names.As mentioned earlier, the improved defensive AI helps to control offensive juggernauts.  With that being said, both offense and defense seem to be even.  That is, neither has a definite edge, so you will encounter good balance with Madden NFL 12.  To be successful, you will have to mix things up on offense and defense, otherwise the AI will adjust to your schemes.  In this sense, Madden provides solid realism for those who yearn for a true simulation experience. Must check out ประวัติ e-sport
Good variety of modes
Beyond the typical exhibition games, Madden NFL 12 offers a good variety of modes to keep you busy.  Online mode is an obvious choice, as you can test your talents against friends or strangers via the internet.  Online Franchise mode is fun if you are looking for an immersed, long term experience, and Ultimate Team is a nice diversion that gives you the option to trade player cards to build the best team of current NFL stars and legends of the past.  Of course, you can also partake in Franchise mode offline if you prefer to keep things to yourself.  It offers several improvements in the form of a new rookie scouting system and a free agent bidding system that are impressive.  If you are looking for something more personal, Superstar mode let's you take control of a single player in order to reach NFL stardom.
Madden NFL 12 may not be the perfect football game, but it's certainly a solid one.  Sure, the commentary swings and misses, and you will find some glitches along the way, but Madden NFL 12's combination of superb presentation, improved gameplay, and various modes make it a must for football fans and sports followers alike.