There are many things you can do in your Smartphone. All it takes is a little interest towards your smart device. You can absolutely turn your Smartphone to smartest phone. Which means you can do anything, you will full access towards your phone and I guess you already know what I am talking about. Rooting a device will let you get fully access of your Smartphone. You can totally change anything you hate about your device.
You can enjoy some custom ROMs and one of the best thing that happened in the history of a rooted smartphone is a Nandroid Backup and Xposed Modules. With Nandroid Backup, you can backup the whole system of your Smartphone which means you can enjoy different ROMs without any data error issues because that backup will revert back your phone to its previous fine image.
Xposed Modules will let you change any part of your Smartphone from inside. Which means you don't have to download custom ROMs any more because Xposed will let you create your ultimate ROM. These reasons are enough for us to root our device.
Still you should know that rooting your device will void its warranty, so make sure you know it before you proceed further. There are many apps for rooted users and almost every single app is safe to use but still its better if you care, make some backup for your Smartphone just in case if anything bad happened. BestMacApp is not responsible for anything, proceed further at your own risk.
LG G3 is one of the best Smartphone that is now available in 2 different versions. This Smartphone is worth buying. It offers you QHD display and an auto laser focus to capture best images. Other than that, it provides Dual Window/ Split Window option. Means you can use multitasking in LG G3. This is really a good feature for a Smartphone like this one. But there is something that bothers every LG G3 users who love to use Dual Window option.
You can use some limited amount of applications in Dual Window and that's why this amazing feature of multitasking really sucks in LG G3 unless you root your device. You can get access to all apps in Dual Window of LG G3 if you root your device and I think this is a convincing point for everyone who didn't root their LG G3 Smartphone yet. There are some other reasons too but I think this is the most important and best reason you need to root your device.
If you don't know how to root LG G3, your problem is solved. Now you can root all variants of LG G3 with Stump Root method in a one single tap. Read it here: How To Root LG G3 [All variants].
Now that you have rooted your LG G3, you can proceed further. Make sure you have created backup first before you do anything adventurous like this one. So now that you have created a backup. Go to Google Play Store and download Build Prop Editor. If you can't find it in Google Play Store, download it manually from the link given below.
Requirements:
Now that you have rooted your LG G3 and download the application mention above. We may proceed further. Now the remaining steps are easy to follow but still if you got any confusion, feel free to ask us in the comment box below before messing up your device. The instruction on how to get all apps in Dual Window is given below in an easy step by step method.
Instruction:
1: Root your LG G3.
2: Download and install Build Prop Editor from the link given above.
3: Open it and make sure you hit the Grant/Allow option when Superuser request pops up. (You don't have to understand this application very well if you are not interested, so do what you are doing without messing anything else).
4: Now go down or hit the search button and find a file name "persist.splitwindow.support_all".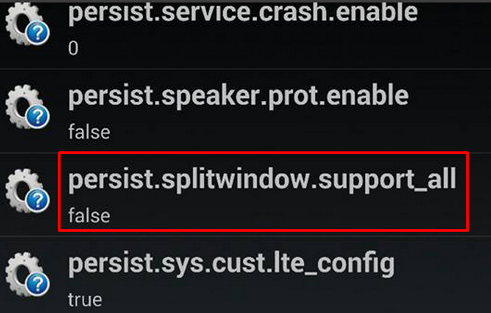 5: Open it and change the DEFAULT VALUES from False to True.
6: Hit the save button, afterwards it will ask you to reboot your device.
7: Reboot it and after that, open Dual Window mode and you will see that you can get access to every single app you have downloaded.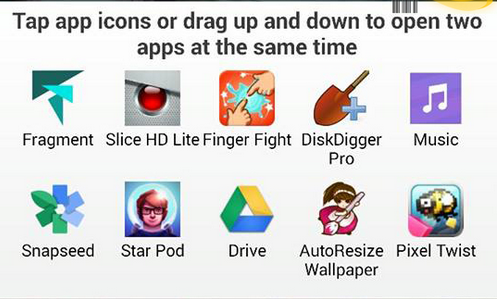 Now play games while surfing internet or do whatever you want with this awesome feature. Now this makes that lame feature to one of the best feature of LG G3. What do you think? Share your thought and review about this and if you have any question or any request or any confusion, feel free to ask us in the comment box below.