If the original Galaxy Tab was the best tablet Samsung could create within the short time they were given, the new Galaxy Tab 10.1 is finally a tablet created using all the time needed. The two may have the same name, but they are worlds apart.
The original was smaller, unpolished, and had to make do with software created for cell phones. It seems chunky now, but it allowed Samsung to respond quickly to Apple as a threat and its humble success closed the question on whether 7" tablets might be more popular (they aren't).
The new Galaxy is larger, thinner, lighter, and uses new software from Google that is made with tablets in mind. It is slick, polished, trimmed, and professional in feel and performance. I've tested Samsung devices for more than ten years now and think this I s one of their finest.
Design
The new Galaxy Tab is meant to be held sideways. It's only in this position that the built-in camera sits at the top of the screen for video chatting, that the speakers hiding in the sides are positioned for stereo sound, and the weight of the device is balanced to be held comfortably. The wider 10.1" screen means it plays widescreen movies without cropping, spreadsheets with more columns, and Android's desktop screens with more room. It also means that websites are stretched and ebook pages are truncated.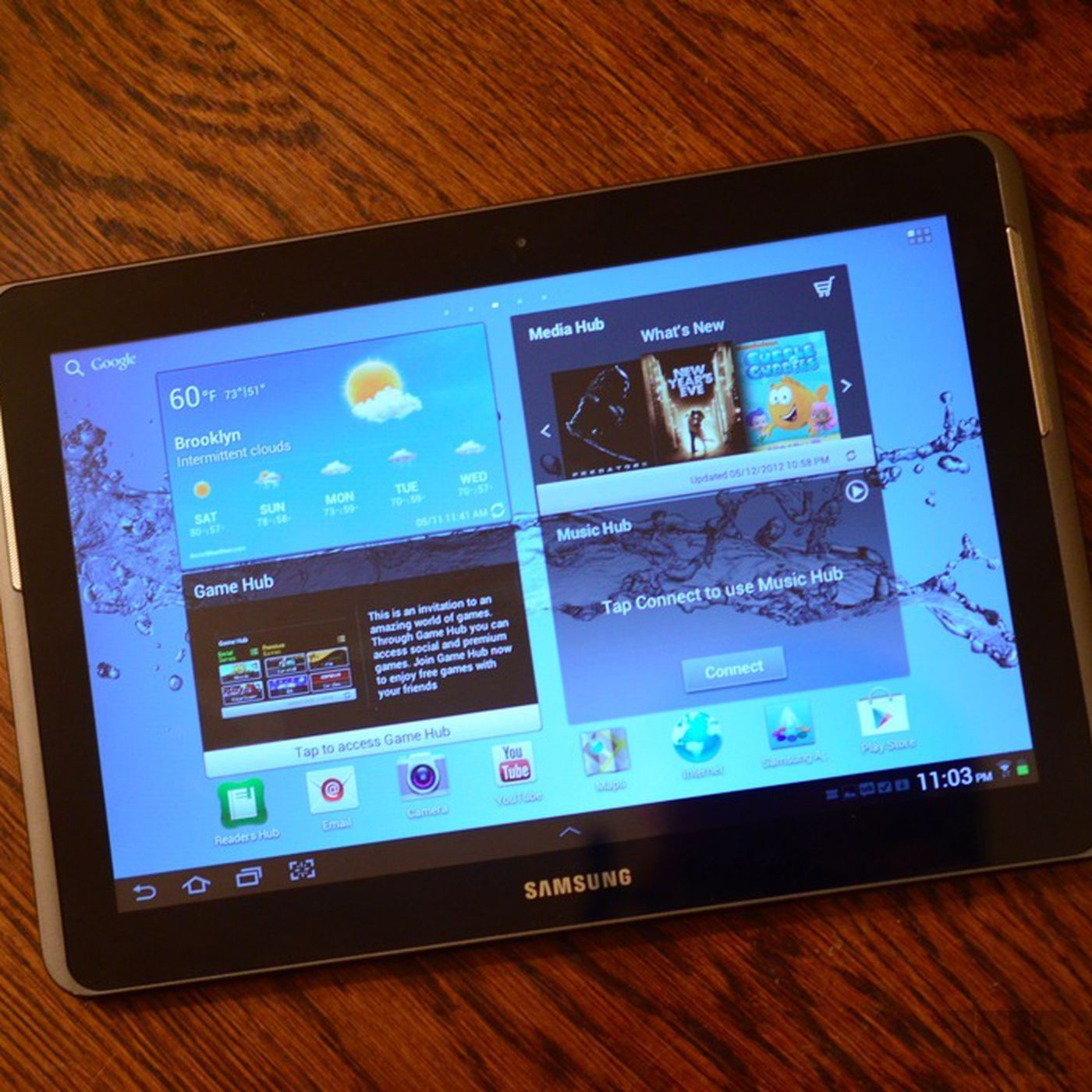 Several apps, including the Android Market itself, will only display in this landscape mode. I find that annoying, for a device that has the ability to switch to portrait you should always have the choice.
Honeycomb
To make better use of a tablet's larger screen Google has developed a special version of their Android software called Honeycomb. It's almost theatrical in the way it now presents on-screen commands and features, using slick, visual flourishes that make it seem as if screen space is three-dimensional.
Videos and pictures are now displayed across large gallery walls and a similar view is used for an overview of the widgets and desktop screen for notifications. Special widgets offer fullscreen experiences while pop-up notifications, mini utility apps, and a recent apps bar make it easier to navigate Android's multi-tasking advantages.
The new Galaxy runs an INVIDIA Tegra 2 processor and not only does this make such visual flourishes run effortlessly even under the demand of running several apps at once, but it allows the Galaxy to run new apps designed specifically for the Tablet including Google Maps with 3D Buildings, their special anatomy software Google Body, and high performance video games such as Samurai II Vengeance. Testing all of these apps I found they performed better against Honeycomb tablets by Motorola and LG.
Recommended: Fall Flat For PC on Windows & MAC
E-Mail & Web Browsing
For tablets Gmail is more sophisticated, offering a layout that's more like a computer desktop client, with check boxes and stars to let you select and change message labels, better see messages, and sort through conversations. In Landscape mode you get the full view and it's an easy and immersive way to manage your mail.
The new web browser runs quickly and offers both tabbed browsing and "incognito" tabs that won't record your surfing history. A download section makes it easy to track files you've pulled off the internet.
Every company that adopts Android for their products can add their own custom apps and widgets. This has always been a weak point for Samsung whose selection of clocks, social aggregators, and media widgets remain simple. They have wisely given up producing their own apps and now include their own market for apps by other developers including Angry Birds.
Camera And Battery Life
With the new Galaxy I can get nine to twelve hours quite easy, but when the time comes to charge the device it can take half of day to do so. Samsung hasn't yet matched Apple's ability to quick recharge batteries.
There are two built-in cameras, a 2MP for chatting and a 3MP camera on the back for taking stills and recording 720p HD video. There's no special performance here, the back camera takes acceptable pictures for reference, but you wouldn't want to rely on it for an art project. To Samsung's credit it does includes a built-in LED flash along with shooting modes, different effects, an autofocus, but no zoom.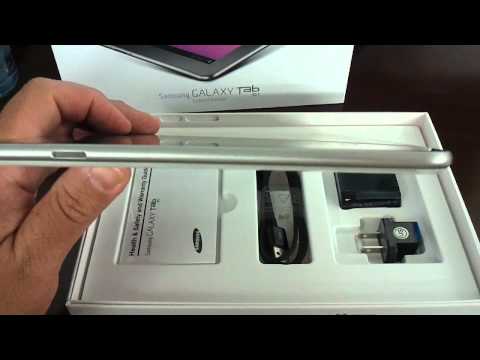 Across The Universe
Of all the non-Apple tablets I've tested, including those by HP and RIM, this is the one I've reacted to the most on an emotional level, it's the one I want to keep. The Galaxy Tab 10.1 is wonderfully balanced between the feel of its design, the immersive nature of its software, and its robust performance, even under great demand.