Rooting a device has become a trend nowadays. If you have a Smartphone which is probably a big one but you don't experiment any cool stuff or try to use your Smartphone to its highest potential then I must say, you are doing it, wrong dude. This OS got so much freedom that you can now do anything, with the passage of time rooting applications and tricks are going on a whole new level. There are some brilliant developers out there who created such applications that were meant to do the impossible.
When you look at your non-rooted device closely, there are several issues you face every day. You can delete system applications, you can't force stop some annoying applications for a long time. There are many other issues especially the External Card problem in KitKat update but why do you have to wait for a long interval of time just to get a new update which will fix some bugs. Still if you wait for a new update, there are some other errors that you have to face. Even though Android is good but not so much reliable at all but why not make it your life savior?
You can do anything you want and all it takes is a rooted device and a heart to do anything without any worries. Because anything which have some good points, also have same amount of bad points as well. That is the balancing nature. No matter what you do or what others do, there always be some bad points but wait a minute, we are talking about Android. Android is something that will change the concept of balancing a life. Are you ready to take risks? Then go ahead and root your Smartphone as soon as possible because things going to be amazing afterwards. All it takes is your interest towards your device and its possibilities.
What is the basic problem you are facing in your Smartphone? I know one of the top problem is a low battery issues. You can't get enough of device's battery. Why is that so? Because there are some applications that run in background all day along. The worst part of any device is that no matter how much you force stop any of the application. You device will stop that application for few minutes and then that application will run in background again.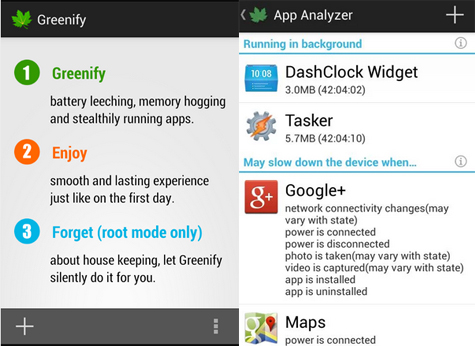 If you want to sort out that battery issue, you could do so if you have rooted your Smartphone. Rooted device can use such an application. Greenify is an application for you that will sort out this problem. It will hibernate the applications which run in background. The best part of this application is that now this can work in non-rooted device as well but that you will find some bugs.
How To Stop Background Applications With Greenify:
Go to Google Play Store.
Search and download Greenify application.
When it's done, open it.
Here you will find Greenify option at the bottom of this application, open it.
Here you will find plenty of applications that runs on background.
Tap any application that you want to hibernate.
Tap on a tick button and here you go.
That's how it's done.
You can also enable or disable auto-hibernation option or you can even create an hibernate shortcut that will help you out to quickly hibernate application.
There are some other experimental features you can use in this application but to do so, you need an Xposed Framework. To download Xposed Framework, you need to download Xposed Installer and here is how you can do so:
How to Install the Xposed Framework:
Download

 Apk of Xposed Installer from above.
Copy it to your Smartphone or tablet
Open any File manager [ES File Manager | Tomi File Manager]
Locate this Apk 

file from

 that manager
Open this Apk from your Smartphone/Tablet
Now simply 

install

 it
Open the Xposed Installer, go to the "Framework" section
Click on Install/Update, now it will reboot
Its done
There are some useful but experimental features which will help you out many ways. There is a boost mode which will help your Smartphone with performance. Just like that there are some brilliant features but these are still in an experimental form so there are many chances that you will face some bugs in it, so there is no doubt if those features will work out for you. If you have any questions related to this application then feel free to ask. If you know any other useful application which can compete Greenify application, then we will be waiting for your comment below.