What is digital data storage?
Digital data storage is essentially the recording of digital information on a storage medium, generally by electronic means. The external storage devices typically allow a user to store large amounts of data in a relatively small physical space and make it easy to share that information with others. The device may be capable of storing the data temporarily or permanently. Digital data storage devices have many uses. For example, computers generally rely on information storage to function. Storage media can also be used to back up important information (storing digital data can have durability and reliability issues, so making separate copies of information is often a sensible precaution).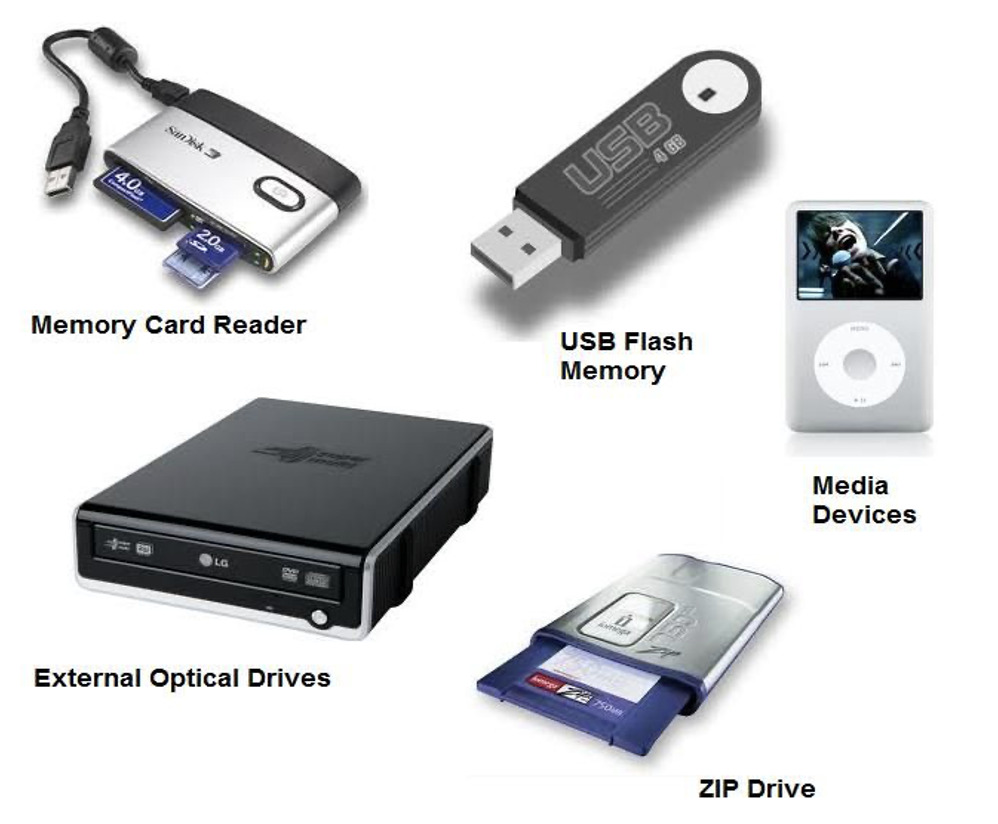 Some external storage devices are also portable, which means that they can be used to transfer information from one computer to another. Digital data storage media generally falls into one of five categories: magnetic storage devices, optical storage devices, flash memory devices, online / cloud storage, and paper storage. I will give one or more examples from each category below.
10 digital data storage devices for computers
Hard disk drives
Floppy
Ribbons
Compact discs (CD)
DVD and Blu-ray discs
USB flash drives
Secure Digital cards (SD card) s
Solid State Drives (SSD)
Cloud storage
Perforated cards
I'll go into more detail on each device below.
Hard drives
A hard disk drive (also known as a hard drive, HD, or HDD) can be found installed on almost all desktop and laptop computers. Stores files for the operating system and software programs, as well as user documents, such as photos, text files, videos, and audio. The hard drive uses magnetic storage to record and retrieve digital information to and from one or more fast-spinning discs.
Floppy disks
Also known as a floppy disk, floppy disk, or FD, the floppy disk is another type of storage medium that uses magnetic storage technology to store information. Floppy disks were once a common storage device for computers and were very common from the mid-1970s to the early 21st century. The first floppy disks were 203mm (8in) in size but were replaced first by 133mm (5.25in) disk drives and finally by 90mm (3.5in) versions.
Ribbons
In the past, magnetic tape was often used for digital data storage due to its low cost and its ability to store large amounts of data. The technology consisted essentially of a thin piece of magnetically coated plastic wrapped around wheels. Its relative slowness and unreliability compared to other data storage solutions have now caused it to be largely abandoned as a storage medium.
Compact discs (CD)
The compact disc (or CD for short) is a form of optical storage, a technology that uses lasers and lights to read and write data. Initially, compact discs were used solely for music, but in the late 1980s, they began to be used for computer data storage. Initially, the compact discs that were introduced were CD-ROM (read-only), but these were followed by CD-R (recordable compact discs) and CD-RW (rewritable compact discs).
DVD and Blu-ray discs
DVD (versatile digital disc) and Blu-ray disc (BD) are digital optical disc data storage formats that have replaced compact discs, mainly due to their much larger storage capacity. A Blu-ray disc, for example, can store 25 GB (gigabytes) of data on a single-layer disc and 50 GB on a double-layer disc. By comparison, a standard CD is the same physical size, but it only contains 700 MB (megabytes) of digital data.
USB flash drives
Also known as USB memory, USB memory is a flash memory data storage device that incorporates a built-in USB interface. Flash memory is generally more efficient and reliable than optical media, it is smaller, faster, and has a much larger storage capacity. Flash drives are also more durable due to the lack of moving parts.
Secure Digital Cards (SD Cards)
SD cards are commonly used in multiple electronic devices, including digital cameras and mobile phones. Although there are different sizes, classes, and capacities available, they all use a rectangular design with a "chipped" side to prevent the card from being inserted into a camera or computer the wrong way.
Solid State Drives (SSD)
A solid-state drive uses flash memory to store data and is sometimes used in devices such as netbooks, laptops, and desktops instead of a traditional hard drive. The advantages of an SSD over an HDD include faster read/write speed, quiet operation, higher reliability, and lower power consumption. The biggest drawback is cost, as an SSD offers less capacity than an equivalently priced HDD.
Cloud storage
As users increasingly use multiple devices in various locations, many are adopting online cloud computing solutions. Cloud computing consists of accessing services over a network through a collection of remote servers. While the idea of ​​a "computer cloud" may seem quite abstract to those unfamiliar with this metaphorical concept, in practice it can provide powerful storage solutions for devices that are connected to the Internet.
Punched cards
Punch cards (or punch cards) were a common data storage method used with early computers. They consisted of a paper card with punched or punched holes created by hand or machine. The cards were entered into computers to allow storage and access to information. This data storage medium practically disappeared as new and better technologies developed.